teamfocus takes your data security seriously

We know that keeping your data safe and secure is critical for your team.
That's why as well as the standard 128 Bit SSL encrytion, we offer our unique Secure Fields feature which uses high security (AES256 encryption), and is available free with all our workflows.
Using the Secure Feilds option provides you with the most secure task management system available… anywhere!
Secure Fields ensures that whatever data you store, like a Passport or Social Security Number, is encrypted in your browser before it's sent to teamfocus, and is only ever decrypted once it comes back to you.
Meaning that teamfocus doesn't ever see or have access to your unencrypted data.
For more information on this unique feature checkout our video below.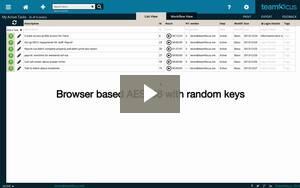 How to get started
teamfocus is free for up to 3 users, to get up and running quickly you can choose from one of our many pre-defined Workflows and customize it as needed.